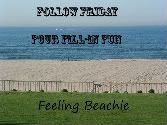 This week's statements:
.
1. How is it _that we've already circled around to another summer_? I swear we never got a winter around here. 
.
2. When I _make a grocery list__ I _write it in order of how the items appear in the store.   no backtracking for me. ___
.
3. I am not sure what I like best _cake___ or _ice cream_ because _I love both for different reasons.__
.
4. I am happiest when I'm _ home with my dogs___
.
****************************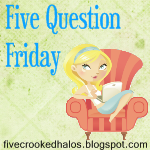 1. Have you ever been robbed and how did you handle it? I have thankfully never been robbed. 
2. What do you do at a kids function when Parents don't behave? Meaning they are the ones being impatient and rude.  I start by not going to any kids functions. 
3. Have you heard of a potty party? Will you/have you had one for your child(ren)?  I have not.  Is there beer there? then I will have one. 
4. How young do you think kids should be when they start taking swim lessons?  babies.  Couple of my friends had their kids in swim classes before they could even walk. 
5. What makes you happy?  my dogs.   a clean house.   a good tv show.   food.   i'm easy. 
SHOOOOOOOOOOOOOOOOOOOOOOT I've been busy.   we moved at work, I got myself a temporary office.  with a door!!!   I've only ever sat in cubes before so this is a real treat.   We are in a temp space while our permanent space is being remodeled.  When we go back in two months, I'll be back in a cube.     I hate that they're getting us used to these new digs, complete with fridge and fancy break room, there's even a keurig, which I still don't get the hype about.  and then will just put us back in the old space.  no office.  no fridge.  no break room.
It's been a rough rough month at the antique booth.   All the snowbirds left AZ and they're the ones that generally shop at antique malls.  I am hoping to just make rent thru the summer and then pray business picks back up. In the meantime I'm listing things on Ebay and having better luck with that.
My Mojo has an ulcer on her eye, it's not healing very well or fast enough.  so I've been super stressed out about that. she's on three meds and we have another appt Monday.  Thankfully it's healing at all.  it could have been at a total standstill.   next step is a doggy eye dr if Mondays appt doesn't go well.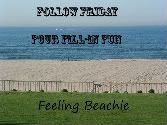 .
This week's statements:
.
1. Sometimes I wonder if I should _stop drinking diet coke____ but I know I won't…  I loves it. 
.
2. __yellow__is my favorite flavor of _gummy bear.  what?  yellow is a flavor_
.
3. The thing I remember most vividly about __being a kid___ is __sitting around reading books all day.   I wish i could still do that.  now i'm just all anxious and stressed out and can't sit for 3 seconds anymore._________
.
4. When I am honest about it, I really _am kinda insecure_____
.
***************************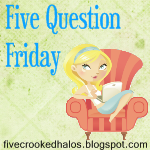 1. What do you appreciate most about your children's Dad?  I don't have kids who have a dad. 
2. Do you always wear your seat belt?  always.  it's the law.   plus a friend who is a police dispatcher says that 99% of people who rollover in their cars live if they wear a seatbeat.  You almost always get thrown from the car if you don't wear one and that's what kills you.  
3. Do you dream and do you remember them?  I dream, everyone does.  I don't often remember them.    I remember bits and pieces.   
4. What is one thing you swore you'd never let your kids do before having them, that you have now changed your ways about?  again, no kids.  
5. If you could be granted one wish, what would it be?  more wishes.   
the whole thing with UPS is cleared up. I ended up tweeting about how they were frustrating me, knowing full well they'd respond to that tweet. They did and they finally put me in contact with managers over at our distribution center who tracked the whole problem down to a missing package that I put a claim in on. If a package goes missing then they have you always sign for them from that point on. That's all well and good but I NEVER put a claim in for a missing package. After they finally got that cleared up (no idea how that got attached to my address) the hold on packages has been lifted.  So they say, we'll see because I have two packages coming next week.
******************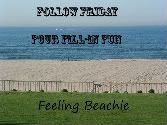 .
This week's statements:
.
1. If I don't _go straight home from work and put on my workout close__ then _working out is not happening. ____
.
2. I wish __I had bigger boobs_but then again _maybe I don't.  Girls with big ones always complain_
.
3. _Math_ is challenging for me.
.
4. I would say I am "computer _angry___" because _I get super pissed off when things are slow or stop working, which is ALL the time at work._____
.
.
*********************************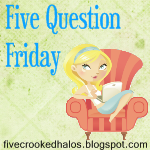 1. What is an acceptable age for girls to start dating?  probably 30.  I'm being serious.  We're all kind of stupid and act like idiots before then.  And some of us even after then.  I think a lot of us made a lot of bad and stupid decisions when it came to guys.   
2. Do you think your kids should have summer homework?  I don't really have an answer for this. 
3. Would you prefer to live without AC or heat?  without heat.  No AC in summer in AZ will kill you.  I can deal with no heat, I grew up in a house without central heating.  
4. What the worst thing about staying in a hotel? (Besides not being with your family)  the pillows.  I bring mine as often as possible.  I'm super pillow picky.   
5. So, do your kids really get "104 days of summer vacation"? (Bonus points for those of you that get this reference!)  my kids are dogs, and their whole life is a summer vacation. 
I have had one of 'those' weeks.  The kind where a bunch of little things that don't really mean much go wrong, but when you combine them all together it becomes a big deal.   It started with my car randomly dying at work in the parking garage.  Twice.   Once in the middle of the exit lane, and the very nice facilities man had to push my car into a spot . After two jumps that wouldn't hold, I had to get a tow truck out there.  In the end all I needed was a new battery but it was very frustrating.
I am in a battle with UPS who has suddenly decided they cannot deliver my packages without a signature. Amazon does not require a signature.   The customer service people at UPS tell me that these packages do not require signatures but the driver can randomly decide that in order to deliver things, you need to sign for them.  This could be because there were a lot of packages reported missing in the area or whatnot.    They told me about this little thing called UPS my choice that is free to sign up for and with this I can say hey please deliver my packages during this window of time or hey it's ok to leave packages that require a signature at my house, i'm releasing you from all liability if they are stolen.  So I sign up.   Yeah those things aren't offered for FREE.  you have to pay $40 a year for that privilege and sometimes an additional $5 per package.  so no thanks.    Or if it is in fact free, I can't find it, which means your website is hard to use.
I caught the driver yesterday who was not polite and told me that his 'board says he needs a signature, this is not his doing'.  and was very rude to me.   so again I speak with customer service who tells me all of the above again.  What people are not grasping is that the driver says he's not requiring a signature, that the sender is.  and customer service is telling me the driver is requiring a signature not the sender.     i have no idea what is going on and no one will help me.     So now I just have to wait and see if this ends,  or wait extra long for packages that I have paid to have delivered sooner.
.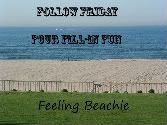 This week's statements:
.
1. One of my best and worst traits is that I _pay too much attention to and worry about the little things. _____
.
2. If I could escape for a day, I'd _spend the day relaxing.  So by escape i really mean, escape my inability to relax. ____
.
3. The best part of  the day__ is _when it's over (work day) and when it's starting (day off)____
.
4. When I was young I thought __the people on the tv could also see me!!_
.
*******************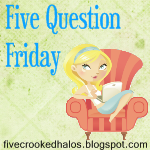 1. Do you wake before the alarm or stay in bed until the last possible second?  I am usually awake prior to my alarm going off.  I am not a good sleeper at all.  
2. Who should get a baby shower? Is it just the first baby or all babies?  how about no babies?
3. How will you spend Memorial Day?  I plan on laying around watching TV.  but what will happen is cleaning and errand running, more than likely. 
4. Do you have a Storm/Hurricane/Tornado/Fire plan for your kids, house..?  no real need here for a natural disaster plan.   but as for fire, don't sleep naked.  that's the only plan here.  
5. What is your favorite morning drink?  coffee.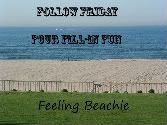 This week's statements:
.
1. I can really use __some sleep_ right now.  I fell asleep after 9 last night, which is way late for me and then woke up wide awake at 1:30.  I have been up since 1:30.
.
2. I like to _freeze__ my _gummy bears before eating them. _
.
3. The color of the sky right now is _bright blue, as per usual around here.___
.
4. I get annoyed _a lot____ because of _the idiot people out there, enough said, right?_______
.
********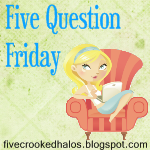 1. Do you have a doppelgänger?  not that I am aware of and if I do poor girl.  I do have a doppelganger in mental form, she's my work wife and she says and does the same things as me WHILE I am doing them. 
2. Do you keep your car cleaned up?  the inside is a little dusty and needs to be vacuumed, but I don't have any trash or anything in it. I did just drive thru a carwash yesterday tho.  
3. What is a current fashion that drives you crazy.  skinny jeans on people who should not wear them. I already know i should not wear them so they don't go onto my body.  you're welcome. 
4. How often do you go grocery shopping? once a week, almost always saturday morning, very early.  I went today because I took the day off work and I went too late in the day. I was IRATE by the time I left.  
5. What has been the best surprise of your life?  so far. getting engaged, with a proper engagement!
Once again I have a busy busy weekend.  I'm not sure how I've managed to always have a million things to do, this is so opposite of normal Jen.   tonight we're meeting up with Thinking Cat and her hubs for some revolving sushi.  They just got a new puppy last weekend so i'm also hoping to meet her.   Tomorrow I am FINALLY getting a massage I haven't gotten one since January.  I actually have 2 booked for this month!!!  And then my mom is coming over for lunch, to see the new house and celebrate mothers day early.    Sunday, which is actually mothers day we're going over to my future in laws house for an early dinner to celebrate mothers day over there.
So on to the hops!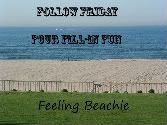 This week's statements:
.
1. If _i stay up too late__ then _I feel sick in the morning because for me staying up late does not = sleeping in. ___
.
2. _morning___ is my _favorite time__ of the day, at work or at home.  
.
3. Once, I was surprised to find myself  _holding a ring instead of a gummy bear_.
.
4. To keep from going crazy, I _drink wine with my work wife.  It helps a lot__.
.
*************************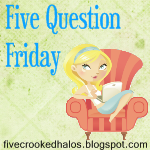 1. What's the one personal hygiene thing you will not do in front of your spouse?   poop.  is that personal hygiene?  because that will never happen.
2. What's your favorite thing about a newborn?  this is sad, I do not have a favorite thing about them. maybe that they sleep so much?
3. When is "too young" to have a Facebook account?  I think they can have private ones monitored by parents pretty young.   Or maybe I'm naive in my thinking.
4. What are your hoping for for Mother's Day?   to go out for breakfast, hey I'm a dog mom!
5. What was the best field trip you ever took in school? we went to the state fair.  It was nice to go during the day when it wasn't busy.
1.  We're temporarily moving out of our current space at work so they can do a major overhaul and renovation.    We'll be out about 8 weeks and will be moved to a temporary space.  We were all really sweating it because there wasn't a lot of info on the how or when or where.    We'll be coming back to smaller cubes with lower walls and  we'll be more packed in.  But this has come down from the tip top and we don't really have any say so in the matter.  That said, I got to tour the temp space last week and it looks like I'll be getting an entire OFFICE while we're there.  A big old office with huge windows.   I'm excited to get an office, even temporarily, but don't want to get TOO used to it since I'll have to move back out into a tiny cube.    They really should have considered making us uncomfortable in the temp space so that moving back here wouldn't look so bad anymore.
2.  Mojo had a birthday on May 5th.  She's 12 years old.   You can't tell by looking at her, she acts like a puppy most of the time.   She had some scrambled eggs for breakfast, got some fancy new treats and a new toy and then had chicken for dinner.   Obviously her brother benefited from her special day as well.
3.  I need to start working out again with regularity, why am I having such a hard time with this!!??
4. The antique booth is doing really well.  I know it's a hit or miss type of thing but so far we're on hit.  Now we're able to spend less time maintaining and shopping.  So far it seems our bread and butter is tables.  We have bought crappy crap crap tables  and even gotten some for free out of junk piles, fixed them up and resold them.    We don't mind doing the 'hard work' for you if it can get us 100%-1000% profit.    We also grabbed a table from a yard sale for $10 that's worth hundreds, but doubtful we can actually get that much.
5.  A revolving sushi joint opened up near me.    I can't find the picture I took but it's loads of fun to pick what you want from the conveyor belt of sushi.  I'm planning on taking Thinking Cat there this weekend.
6.  Pinterest strikes again.   We created a clock wall. We still need two more small ones to fill in the spaces, but after that we're good to go.  And no, there are no batteries in any of these, are you kidding me with the ticking.  but they are all set to 10:10, because for what ever reason that's how most clocks come to you.   Note the basket of dog treats, voodoo will show you what he's in the mood for.  I've created a monster.
7.  Took a little day trip up to northern AZ on Saturday. We hit Sedona, Jerome and then stopped off for some pie in Rock Springs.
8.  When you come to my house, if you are small enough to use the doggy door, then you have to.  This kid cracks me up, he's so smart.  he's my boyfriends nephew, he's nearly 4 and just a ball of sarcasm.  Few weeks ago we were at a park and this lady showed up with two of her nieces who were calling her Jennifer.  That threw this kid over the edge he was not happy.  He was all NO THAT'S JENNIFER.  and points at me.  I don't think he's ever met two people before who had the same name.   He was just not having this and ended up sighing and throwing his arms up saying  WHAT IS GOING ON HERE????
9.  I need to buy black out curtains for my bedroom ASAP.   I go to bed between 7-7:30 and it's still light out now!!!  Unacceptable.   I miss winter daylight hours
10.  This past weekend after spending the day in Northern AZ  (see #7)  I came home exhausted and a little sunburned (bad Jen)  and settled into bed with a bowlful of frozen gummy bears, which is my candy of choice.    Little did I know that this was planted in the bowl.
I didn't find it until almost the end (there were 2 left).  I was very confused about what was happening and therefore don't really remember much.  Now I get why girls never seem to say 'yes' we just sit there all confused.   Apparently he had the ring on him all day and kept looking for the perfect opportunity to propose, but it never came.    Things went awry here and there during the day and it just wasn't right.   Which is probs for the best because I kept getting cranky at him for all the setbacks!!!!
It took so long for me to find the ring he started thinking I ate it!!!  All I really remember about it is:  me: WHAT IS THIS?   him: it's a ring.   me:  ARE YOU SERIOUS?
yes he was!!!
eventually I said yes.
He doesn't remember that part.
Even boys freak out.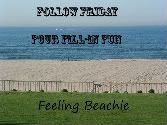 This week's statements:
1. Sometimes I wonder _how I haven't been fired _ yet.  just kidding, they'd never get rid of me!!!
.
2. I try not to but I get_angry__ very _quickly when people at work are stupid.  ok just one person. she gets me EVERY time!!!___
.
3. Today I promise that I will __not get mad at anyone__ until I __get mad at someone!_
.
4. In my dreams I _always find out something i'd rather not know__ and sometimes _I wake up confused, not sure if that really happened.
.
**********************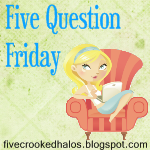 1. What is your next home improvement goal?  Well, since it's not really MY home, I'm renting, I 'm going to say putting up my clock wall.  Something like this
2. If you could only read one book for the rest of your life, what would it be? No religious texts (ie Bible, Quran, Torah, etc, etc)…  shoooo that's a hard question, I know it's going to sound cheesy but i could read Danielle Steele's  Daddy
  over and over  (and have)
3. What is on top of your refrigerator?  a kitchen-aid mixer.  An ice bucket full of kitchen tools I don't use often and I think that's it. 
4. What are your favorite or most used phone apps?  facebook, gmail and weather
5. What's the one thing you hate most about your spouses job?  I don't have a spouse.   But the guy I'm dating has basically the same job as me, well same industry.   So I don't hate anything about his job really.   I know what to expect. 
1.  When it's time to cut the grass (mow the lawn), who does it?  Fortunately for me I've downsized the grass in the yards by about 85%.   I had a very very very big backyard before.
This is just part of the backyard
and this is the new 'patch of grass'
sometimes I think the dogs might miss being able to run and gallop around out there, but really all they did was chase a bird or two.   and let's face it, i have a couple of lazies so a smaller backyard suits them fine.
.
2.  If someone gave you $500 dollars and you could not spend it on yourself, who would you spend it on?   I would spend it on my mom.  I am pretty sure she would not be on board with what i'd spend it on, but that's not my problem.   Someone gave us $500 and there are things that need to be done/taken care of around her house, so that's where it's going.  My mother would more than likely prefer I just give it to her so she can spend the day shopping QVC!!!!!
.
3. Have you ever taken a blogging break or considered one?  I take blogging breaks all the time.  I don't have a lot to say.
4.  Are you bothered by spring allergies or hay fever? If not spring, any other time of the year?  I am having a real tough allergy season.   I'm not sure if the new landscaping in the back yard is contributing or what, but i'm always stuffy, itchy, watery, generally icky.   I think the dogs had a rough go when I moved as well, their eyes seemed a little weepy for a week or so but they look like they're doing ok now.
.
5.  What's new with you?  Well, I moved.   So that was a pretty big deal.    It's been about 3 weeks now and it's still kind of weird. I am definitely in love with certain aspects of my new home.  My master bath is super awesome.     As stated above, the yards are easier to maintain.   I have rose bushes out back that I have no idea how to tend to just yet but they sure produce some killer long stem red roses! I've had fresh flowers put out since i moved in.  And I finally get an Air Conditioned work out room.  But we're still going thru an adjustment period when it comes to comfort level.    There's also the beginning of a beehive forming out front so we're working with pest control on containing that.  Also i'm scorpion free so far, but still a little distrusting that it'll stay that way. I lived with scorpions for so long that I am sure they're lurking about somewhere.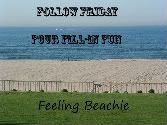 This week's statements:
.
1. The color _blue_ reminds me of  the ocean__
.
2. Lately _time at work __ is _going by __ so _slooooow.  it's been a long week. __
.
3. Does the sound of breaking glass make you _run for the vacuum?  when I hear glass breaking at home I just get up and go get the vacuum.  well first I make sure the dogs are ok and not walking around in broken glass.  
.
4. When I wander _around at work___ I _always end up finding food I shouldn't be eating
.
*******************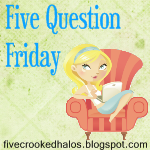 1. Who drives when your family is together, you or your spouse?  normally it's not me.   I HAAAAAAAAAATE driving.

2. Are you an introvert or extrovert?  totally an introvert.

3. Are you married to an introvert or extrovert?  Not married, but am currently involved with another introvert.   so that works out well.
4. What's your favorite type of social media?  If I had to give them all up but one, I'd keep facebook.
5. What's your favorite way to "recharge"? I literally stay home and do nothing.  Recharging to an introvert means alone time,  no talking.    no people.    I will often take a day off work, I like to call it Jen day and it's just for me to do what I want.  which usually means, do not get out of pajamas.