thanks Ryan, you should, you're the star of it today.
ok for real I never saw a Ryan Gosling movie until 3 weeks ago when I watched Crazy Stupid Love with Steve Carell (which is a great movie btw)  so now I think I kind of see the appeal of him. I mean I wouldn't kick him out of bed or anything…….  Ryan.  not Steve.  and maybe not even Steve.  anyway……
.
BEACHIE is letting me cohost Follow Friday Four Fill in Fun!!
the statements are: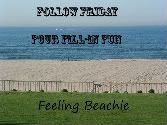 1.       I like to avoid ___ if possible
2.       ___ is a virtue I do not have
3.       Sometimes the _____________ are the ______________
4.       I think that _____________ are the best _____________
.

.
MY ANSWERS
.
1.       I like to avoid _confrontation__ if possible.  I am not confrontational by nature, under the right circumstances I will go Jersey Shore on someone but for the most part, I'd prefer not to.  
2.       _Patience for most people__ is a virtue I do not have.   I have a real hard time dealing with certain people.  If you are polite and nice and have common sense, then I can be so so patient.   When you are an idiot, patience gone.
3.       Sometimes the _people you think have the perfect lives____ are the _people who are secretly struggling with a lot. _
4.       I think that __dogs__ are the best __companions.  I mean, they just love you.  I wish I could be more like my dogs.  Just so excited for the simple things. We went on a car ride today that lasted all of about 15 minutes, but man were they excited as soon as i said 'want to go for a ride?'  It was like they'd just hit the jackpot__
******************


1. What religion were you raised as a child, if any, and are you still a member of that faith today? Why or why not?
I wasn't raised in any religion.  My mother and grandmother who I lived with were both Catholic, my grandma was a pretty strict one and took me to church with her if I wanted to go.  i thought it was great fun but i was too young to really understand what was going on.   But my mother didn't want me raised with a religion that was forced on me and thought that I should choose what I wanted when I got older.  And I've chosen no religion.
2. Do you have an all time favorite candy or do you change favorites often?
I love candy.
3. Are you a green thumb? Do you landscape your yard or plant any flowers or a garden? Do you pay someone to do it for you? Do you not plant a single thing?
I can keep a houseplant alive like nobody's business.  But I kill cactus in a week.
4. Let's just say you were a tattoo junkie and you were planning your next tat and it had to be words only. What words would you choose? A quote? Phrase? One word? Would you do it in English or a different language?
I'd get the word 'strong'  because we all need to be reminded sometimes that we are stronger than we think.
5. Repeat question: Summarize your week.
well, no dead birds on my lawn this week, last week  I had a few.
******************
1.  Something that is very near and dear to my heart is,  my dogs.
.
2.  Today.   is Friday and we have a potluck
.
3.  The most fun I ever had was  at Disneyland a few years ago.
.
4.  True friends are  easy to spot when you're going thru tough times.
.
5. Something that makes me terribly happy is my dogs, always.
.
6. A good way to spend a sunny day is     inside if it's summer time!
.
7.  My favorite celebratory food is  Golden Corral, I can't pick just one food and Golden Corral doesn't make me.
4 Responses to "Shirtless Friday RG"